It's Big Sis with a koala!
Now, I know what you're thinking. You're thinking
"Phil, the pink Australian bear is very cute (if a little pale compared to her Auntie), but why has Big Sis got a tea bag stuck to her forehead?"
.
Well I'll let her explain it herself...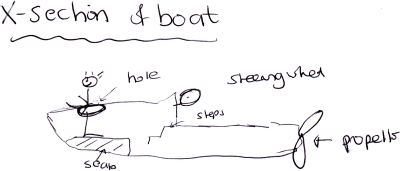 As the picture above clearly illustrates, Big Sis went for a ride in a speedboat last weekend. That's her coming out of the hole in the front, being flung four feet into the air, landing on her head, and being knocked unconscious. As she said to me yesterday,
"Everyone thought I was dead"
. But sadly for the wildlife of Australia, she wasn't. As she proved by having her limp, lifeless body launched into the air a second time, crashing back down to earth (well, boat), and being revived by the impact.
And here's the result...
Anyone would think she'd been kicked by a donkey. Her head's in quite a state too. That's the head of the flying school, whose boat is now covered in blood.
Anyhoo, the good news is that despite spending her last night in Australia at a Perth hospital, and trying to pack her suitcase with concussion (which is probably what put her over the weight limit), Big Sis made it back to the UK in one piece, and successfully battled her way down to Brighton. It's the first time I've seen her since
January 2nd last year
, and to be honest, I had no idea it had been that long. I've been telling everyone I saw her last summer, but I'm probably thinking of
the time I met my Cousins
.
Sis was naturally delighted to meet Amelie for the first time, and handled her with the laid back confidence of someone who's never held a baby in her life, and doesn't realise they're breakable. Not that Amelie seemed to mind. In fact she found her Auntie strangely fascinating. After four months living through a British winter with her pale-faced parents, this is the closest she's come to mixing with ethnic minorities. She's never seen a skin tone like it. All we needed was a piano and we could have filmed the video for 'Ebony and Ivory'.
Anyhoo, Sis spent the morning sorting out car insurance on the internet, and debating whether she should admit to kangaroo-related claims, after which I took her into town for some hair dye and straighteners. She's going to grow her fringe to cover the scar on her forehead. She's already attempted to hide the bruise on her thigh with fake tan, which is ironic when she's covered in the real thing.
We eventually waved goodbye to Big Sis at 3pm, when she took Mum's Taxi Service to St Leonards to pick up a second-hand deathtrap she's bought from a dodgy car salesman. From there she's going straight to Beds, where she's spending a few weeks polishing her flying skills at Cranfield University, before trying to persuade someone to give her a job. So if you're thinking of booking a foreign holiday, I'd do it now. She's unlikely to be piloting any jumbos before the summer.