Today marks another milestone...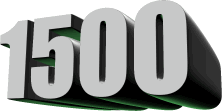 No, that's not the number of death threats I've received (though
it's not far off
). This is actually my 1,500th blog post. According to Bill Gates and his ability to count, I've written 521,577 words here since 2003. And about half of those are 'anyhoo'. I should probably get out more.
As it happens though, that's not the only milestone I've been celebrating this weekend. And the other one features big numbers too...
Yep, my Dad's done his three score years and ten. Well, almost. It's not actually his 70th birthday until tomorrow, but we celebrated it yesterday in case he doesn't live that long.
As luck would have it, my parents happened to be offloading some more junk at their retirement bungalow in Sussex, so Lisa, Amelie and I took the opportunity to pop over there for a few hours. Obviously we'd drive to the ends of the earth to visit my Dad on his birthday, but let's face it, St Leonards is a lot nearer than Chelmsford.
The good news is that my Dad's fixed the broken doorbell since
we first visited
. On the downside, it now plays a tune so annoying that you feel like smashing it in with a hammer. So it might not last long. But that aside, I'm pleased to report that six weeks after taking ownership of the property, my parents have finally worked out how to use the bath plug. Apparently it was more complicated than it looked.
Anyhoo, as the cake above states, it was party time in St Leonards yesterday, and let's face it, nobody parties like my Dad. He spent most of the time asleep in a garden chair in the living room. Which was a shame because he missed Amelie crying all afternoon. I think he liked my gift of a bottle of soy sauce though. Admittedly he insisted I take it back home with me at the end of the day, but I think that just shows the generosity of the man.
As for the birthday meal, we gave my Dad the choice of any eating establishment within a five mile radius. He chose the local chippy. You have no idea how hard it is to get candles into a haddock.
But the best thing about a family birthday is being reunited with your loved ones...
It's the first time I've seen Chloe in over two months. It was also her first visit to St Leonards, and apparently she'd been up all night crying. She and Amelie have so much in common.
I took the opportunity to give Chloe a quick haircut while I was there, which frankly was no mean feat. I'm not saying she's put on weight since she moved in with my Mum, but it was like shearing a bowling ball. Apparently her strict diet of cat biscuits and tuna has been supplemented with porridge, gravy, and basically anything she can get her paws on. It's like the opposite of fat camp at my parents' house. I'd take her to the vet for a gastric bypass, but I don't think she'd fit in her cat box.
Anyhoo, we left St Leonards at 9pm last night and stopped off at Tescos on the way home, shortly after which we were pulled over by the police in Bexhill. Apparently the place is a hotbed of crime and delinquency, populated exclusively by chavs, nutters and people in care homes, so the police were doing random drink-driving checks by the roadside to make sure none of them escaped.
I was asked if I'd had any alcohol that evening, so I said no, and the policeman replied
"What, none at all??"
. He looked incredulous, but fortunately the only bottle he found in my car was the soy sauce, so he had to let me go. It was a lucky escape: Lisa was sitting in the back surrounded by toffee cookies and chocolate muffins. Thank god it wasn't the diet police.