It's Amelie with her Garden Friends!
She loves those Garden Friends. Just look at the kicking she's giving that dragonfly. Give her a few months and she'll be pulling the legs off spiders.
Talking of garden friends, I had a hit the other day for this phrase:
"Can hedgehog concept be applied to QVC??"
.
I'm ranked number three on Google for that
, so obviously I can answer with ease. Let's face it, there are officially only two people in the world who know more about it than I do, and by the time I publish this post I should outrank them both.
So having
done my research
and studied the venn diagram...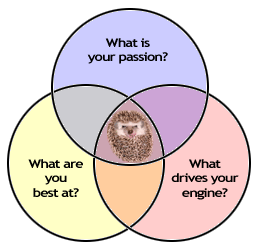 ... I'd say the answer's yes. The hedgehog concept
can
be applied to QVC. After all, you only need to watch for half an hour and you find yourself wishing the presenters would curl up and die under the wheels of a truck.
In other news, it was Remembrance Sunday yesterday. Unfortunately I forgot. I think it's because it was so close to bonfire night - I always forget the fifth of November too. Lisa was in the bedroom all morning listening to Southern FM, so she had no trouble empathising with the pain and suffering of millions. She successfully observed the two minutes silence at eleven, which I'm sure was the highlight of the mid-morning show, but sadly she failed to remind me to pay my own respects in the living room.
When I asked her why, she said
"It was two minutes silence. I couldn't say anything"
. You can't really argue with that. I think I'll set an alarm for 11 o'clock tomorrow.