So anyway, having been hounded out of Hove and eaten chocolate splat with a nine-year-old, Lisa and I headed home on Sunday via a major traffic jam on the seafront, which left me with a full forty-five minutes to eat my tea, look at photos of Afghans, realise I didn't know where I was going that evening, panic, drive over to Hove, fail to park, and run through the streets like a madman. I may have arrived two minutes early, but I think it took twenty years off my life.
The evening's event was 'Bricks, Barley & Boatmen', the second guided walk of the year from Geoff Mead, who does for history what David Blaine does for magic. Only without being a twat. The starting point for this one was Norfolk Square, a pretty little square in West Brighton which is popular amongst alcoholics and street drinkers. As Lisa once said during one of her stand-up comedy routines at AA,
"I'm more Churchill Square than Norfolk Square"
. Churchill Square is Brighton's shopping centre.
That whole area used to be known as the 'Blacklands', which is apparently nothing to do with immigration, and everything to do with 19th century brick-making. The attractive-sounding Golden Lane was in fact home to one of the blackest, dirtiest brickworks in Brighton. In those days, roads were named as inappropriately as possible, in order to mask the nightmarish reality of life on the street, hence Mount Pleasant is always a city's biggest dive, and Sun Street the darkest, most depressing place on earth. So if someone tries to sell you a house in Lovely Road, just say no.
Crossing the boundary into Hove, we walked around the back of the
The Old Market
, which was the Churchill Square of the 1820s, but now sells nothing more than cheap tickets to see
Dave Gorman
on April 4th. I've bought two. The Conqueror pub next door apparently used to advertise itself as
"the cheapest pub in Brighton"
, which doesn't exactly inspire confidence in it being a classy joint, so we ducked down an alleyway instead, and headed towards Embassy Court on the seafront.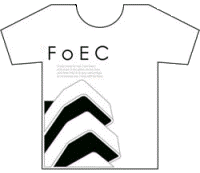 I like Embassy Court. You've got to admire any block of flats which has
its own website
. Though I draw the line at a 'Friends of Embassy Court' t-shirt for fifteen quid. I don't like the sound of that acronym.
Anyhoo, past residents include Laurence Olivier, Rex Harrison, Diana Dors and Graham Greene, but by the 1990s it was apparently home to the largest Sudanese community outside of the Sudan. No wonder they called it the Blacklands.
Deciding not to walk along the seafront, which Geoff described as
"mostly Victorian tat"
, we headed inland through Norfolk Mews, which not so long ago was one of the most densely populated areas in the country. Passing 'Olde Norfolk Cottage', complete with new TV aerial, we encountered a sunken alleyway which Geoff said he always imagines should be home to a gangster wielding a sock full of wet sand. It makes you wonder why he took us there.
Next stop was Oriental Place, which sounds like a Chinese takeaway, but is in fact a street of Grade II listed buildings intended as an approach to a new exotic garden which was planned in the 1820s. Sadly the project had to be abandoned due to lack of money, and the fact that Charlie Dimmock hadn't been born yet.
Making our way through Regency Square, we encountered number 1, Queensbury Mews, a former garage which was featured in 'The West Pier', a novel by Patrick Hamilton, who'd previously given Hitchcock enough
Rope
to hang himself. That wasn't the only cinematic connection, as the nearby twitten at the side of the Regency Tavern appears in the opening scene of
Brighton Rock
. That was before they built
Sussex Heights
behind it and ruined the chance of a remake.
Heading into Preston Street, the street of a thousand restaurants (though Geoff said it's closer to seventy-five), we passed The Royal Sovereign pub, which was once home to
James Lillywhite
, the first ever captain of the England cricket team. I wasn't bowled over by that fact, but I
was
impressed, whilst standing outside Shoefayre, to learn that JJB Sports and Sainsburys Local are housed in the biggest old building in Brighton, Mitre House. I mitre known that, but I didn't.


I can't believe I'm ending on that line...