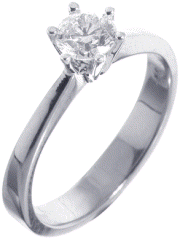 Look at that. Who says you can't get quality in a pound shop. You won't find a better cubic zirconia set in stainless steel for under a fiver.
Anyhoo,
Happy Christmas everyone
! I trust Santa has fulfilled the promises he made whilst bouncing you on his knee in the Arndale Centre. I know he has mine.
I'm pleased to say that having eaten cocktail sausages and shortbread for breakfast, Lisa and I have just exchanged gifts. She took Nicole Kidman's advice and bought me a Nintendo DS with the
latest Zelda game
, and in return I surprised her with the ring on the left. Yes, like the toilets at the Hammersmith Apollo, we're now permanently engaged.
But enough about our impending marriage. Let's move on to my career as a soothsayer.
Last Wednesday
I mentioned that I'd received a mysterious package in the post, which I hoped might be the 2008 edition of
Dave's book on Sarah Mallet
. It was what's known as 'a joke'. Well...
I swear I hadn't opened it when I wrote that
. The fact is I clearly have levels of intuition that would make Mystic Meg faint. It turns out that Dave has prepared a special edition of his book for people like myself who don't read. It's abridged to within an inch of its life, and comes complete with pictures to spur you on through all three of its pages. And yes, I did manage to get to the end. I was a little disappointed to find that Sarah Mallet isn't the great-great-grandmother of Timmy (unless Dave's saving that for the next edition), but that aside, it was a cracking read. Although I'm sure there's no such place as North Lopham.
As for my proposal to Lisa, well I decided to pop the question in that age-old traditional manner which has been used for so many generations by all of history's great lovers. Yes, that's right, I spelt it out on a breakfast tray in home-made gingerbread.
Oh, and she said yes.
After which she said
"Which hand does it go on?"
. So at least I know she's never been married before.