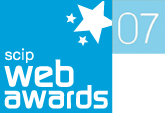 After more than a month of nail-biting suspense, the shortlist for this year's
Brighton Web Awards
has finally been announced. Hurrah! I was one of twenty bloggers to be nominated back in September for the 'Best Personal Site and Blog' category (you can see the full list
here
), which I'd like to claim was the result of some kind of rigorous selection procedure, but in reality just involved me visiting the awards site, typing in my web address and clicking 'Nominate'. Frankly Lisa could have made it onto the list if I'd told her about it.
Anyhoo, a panel of judges have spent the past month assessing each site according to
a strict set of judging criteria
(which oddly doesn't include quality of writing), and have now selected a shortlist of five for each category. Needless to say I'm not on it. But it's hard to compete with the standard on offer this year. We have...
1. The 2004 winner.
2. Local news from the Lib Dems.
3. International development research (no falling asleep at the back).
4. Dry democracy discussion.
5. Someone who's only managed five posts since July.
One of those blogs runs to as many as fifty-one posts. Yes, fifty-one posts. This is my one-thousand-one-hundred-and-ninetieth. But who's counting. Certainly not the judges. And besides, it's about quality, not quantity. After all, have I managed a discussion on the Gould Review of the Scottish Elections, the council's mobile-phone mast map, or the globalisation of ideas, movements and policy as a reconfiguration of social space? No, I have not. Well, not recently. I've been too busy slaying the undead at the Devil's Dyke.
So I'd just like to say well done to the five finalists. And also to Allan Love, whose
fish & chip shop
has made the shortlist for 'Best Business Site'. What a week that man's had. I'm also pleased to see the
Dining Dykes
getting a nod. It's about time someone acknowledged that lesbians like eating out.