I went to the Lib Dem Conference yesterday. Well, I loitered about outside looking for Lembit Opik & The Cheeky Girls. It amounts to the same thing. Sadly, despite walking in front of two different camera crews with an interesting expression on my face, no one asked to interview me for the lunchtime news, and I failed to spot anyone famous. I was particularly hoping to bump into Justine McGuinness, the former official spokesperson for Kate & Gerry McCann, who's now lost custody of Cuddle Cat and is in Brighton all week chairing debates for the Lib Dems.
I discovered this morning that she has
her own blog
(although she avoids the subject of Madeleine McCann in favour of writing about Punch & Judy). She's only had one comment on her latest post, but it's a corker. Oddly she hasn't replied to it.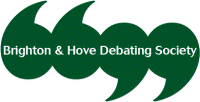 But inspired by the debates taking place on the stage of the Brighton Centre, Lisa and I made our second attempt to join the
Brighton & Hove Debating Society
last night. We'd planned to go last month, before having a debate about it and changing our minds, but yesterday there was no stopping us. Admittedly, we were very nearly foiled by our inability to find the venue, but having almost walked into a yoga class by mistake, we were eventually directed down a dark alleyway behind a flower stall, and located our fellow debaters.
It cost us a pound to get in, which the gentleman on the door assured me is the best value night out in Brighton, including as it does, a cup of coffee. I didn't tell him I only drink tea. The group were a curious mix. I'd say 90% of them were pensioners, but intriguingly the president of the society is a young chap much like myself (but without the fantastic moustache).
The proposal up for discussion was 'Age is a state of mind', and prompted a debate which covered everything from Mozart to Stirling Moss, via Joan Collins and Cher, taking in hip replacements, YouTube, and 'the biological cage'. I actually quite enjoyed it. In fact I very nearly got to my feet to make a fantastic point about the menopause, and playing squash with octogenarians, but just as I was on the verge of joining in, we ran out of time. The proposer won the debate by 23 votes to 6. Which would have been 4 if Lisa and I hadn't gone. I had no idea I held such minority views.